Internships, Courses, Volunteer work and Studies abroad
Learning Spanish with AVE is an exciting experience, full of active exercises, far from boring vocabulary or quizzes. Our program is adapted to your personal and individual interests and is apt for those people who want to learn about the Costa Rican culture. AVE gives you the necessary Spanish knowledge so that your stay in Costa Rica is a guaranteed success. The course takes into consideration the personal level of each participant and tailors the lessons accordingly.
Teaching materials: AVE disposes of its own teaching materials that not only cover the Spanish
grammar, but also information about the Costa Rican culture, as well as material for your self
studies.
Student number: AVE's Spanish classes are taught in small groups (maximum 4 participants) and include every subject needed to learn a language: speech, composition, listening and reading skills.
Course level: Our courses correspond to the common European Language References:
A1, A2 Beginners, B1, B2 Intermediate Level, C1, C2 Advanced Level
Internships
AVE can organize your internship or volunteer job all over Costa Rica in the following fields: tourism, business administration, marketing, human resources, administration, law, medicine, environmental, social area, education, etc.. You can chose to live with a host family, have a shared flat or a private apartment (this is allow only for people who are not in our High School Program).
The advantage of a host family is that you will constantly practice and improve your language skills.
On top of that AVE offers language courses that are tailored to your internship or volunteer work.
You can start with a course either before or during your internship or volunteer period.
We guarantee that we will personally take care of you during your entire stay in Costa Rica and that you will have an unforgettable experience.
Language courses:
AVE offers you language courses that take place under very agreeable environments and that are tailored exactly to your needs.Whether you wish to refresh your Spanish, or polish it for a specific field, we can set you with the right teacher. Our individual learning program (classes of 4 people) will ease you the task of learning the language effectively and quickly. Our Spanish teachers are professional and very motivated. Apart from that, Costa Rica's friendly and communicative people will offer you many possibilities to practice and upgrade your language skills,while you experience their culture first­hand.
Volunteer work in Costa Rica:
Activities: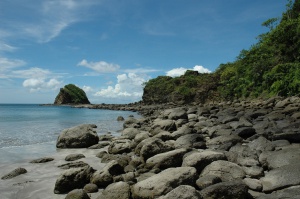 In National Parks: Maintenance work, protection of turtles, patrolling, cleaning activities, give out information to visitors, etc.
Social work: Helping at day care centers, institutions for disabled people, or at retirement homes.
Teaching: Sports, German or English
Beginning: Anytime.
Length: 4 weeks up to a year.
Registration: as soon as possible, at least 2 to 3 months before travelling. Depending on the case, sometimes even at shorter notice.
Requirements:
Age: at least 18 years
Characteristics such as independence, flexibility, initiative and adaptability are a must
Spanish knowledge (we offer you Spanish courses if you do not have any prior knowledge)
Volunteer work and language courses
We offer you a program with a Spanish course or without a Spanish course.
Services:
Pick-up at the airport
Introduction course
Organization of volunteer work
Housing
Full board with three meals per day
Laundry
Spanish course with 20 hours per week if desired
Accompaniment by our staff
Visa application
Certification
Prices: Depends on the length and place of stay and type of lodging. Costs of an internship of your choice upon request.
Payment: 50% of the total amount needs to be payed as a down payment after your formal registration (closure of contract). Two months prior to departure the remaining 50% needs to be cancelled.
Transportation to the respective location of the assigned project
Last night accommodations in San José before departure
Health, liability, accident, travel and baggage insurances
Vaccines
Personal costs for excursions, transportation, etc
Telephone bills
Others
University Exchange
Compared to Latin American countries, Costa Rica boasts a high educational level. Aside from three public universities, there are numerous private universities in Costa Rica. If you want to spend a semester or more in Costa Rica, you will enjoy many options to study. At the same time you can learn the language, experience the culture and the fascinating nature of our country.
AVE organizes your foreign studies program from beginning to end. Our great advantage is that we are always available, you can reach us anytime!